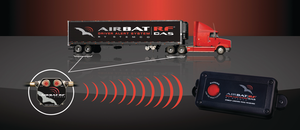 ABOUT BAT RF
Our BAT RF system combines advanced sensor design, RFID and data management technologies to provide solutions that reduce vehicle maintenance costs, increase fleet safety and operational efficiency.
In 2005, STEMCO introduced an innovative new product line, BAT RF, developed to provide solutions that reduce the cost of vehicle ownership, improve safety and increase value for fleet and vehicle operators. STEMCO's BAT RF products use advanced sensor technologies and radio frequency identification (RFID) to collect and communicate critical data on vehicle condition and maintenance, saving fleet operators time and money. The modular based product suite addresses fleet challenges such as knowing how many miles a vehicle has traveled, which equipment needs attention for preventative maintenance and the condition of various vehicle components. In an increasingly competitive and safety conscious market, gathering this data in an accurate and efficient manner remains a focus for fleets today.
With offices and manufacturing facilities in Longview, Texas, STEMCO is a leader in the technology and manufacture of heavy-duty truck and trailer wheel end products. STEMCO is an EnPro Industries, Inc. (NYSE: NPO) company. EnPro is a leader in the manufacture of sealing technologies and engineered products for use in critical applications by industries worldwide.
For more information about STEMCO, visit www.stemco.com.